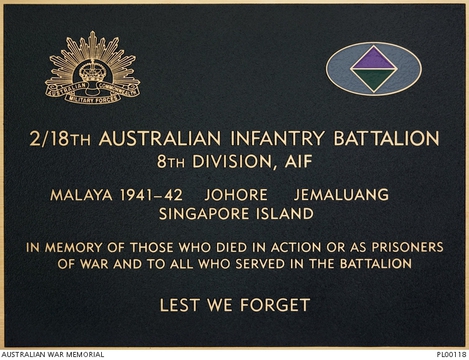 About This Unit
2nd/18th Battalion WW2
Extract from the 2nd/18th Battalion Association website
The 2/18th Australian Infantry Battalion was raised in north-western New South Wales and Sydney in June 1940, as part of the 8th Division - the third AIF division formed in World War Two. However, in 1941, instead of joining the other divisions in the Middle East, as expected, it went to Malaya.
The 2/18th Battalion assumed garrison duties in Malaya in February 1941 and for ten months was in continuous training - with an emphasis on jungle warfare - until the outbreak of war with Japan on 8 December.
The battalion went into action near Mersing on the night of the 26 January 1942, in a battle lasting ten hours. The entire British-Australian force was then forced out of Malaya but twelve days later. When the Japanese invaded Singapore Island, the 2/18th was in action again.
Fighting was continuous until 15 February, when General Percival surrendered his entire force. In the nine days of its total fighting history, the 2/18th lost 225 men killed, with over 400 wounded. These losses, while the lightest sustained by the Division's 22nd Brigade in the Malayan Campaign, were greater than that of any other Australian unit in a single campaign during World War Two.
With the fall of Singapore, the battalion went into captivity. The POW experience varied, as the Japanese split the Allied united to create well-balanced work forces for their labour needs. As a result, men from the 2/18th represented the battalion in camps in Singapore, Sumatra, Java, Borneo and Japan and on the Burma-Thai railway.
The history reveals that, for the next three and a half years, the 2/18th as a unit, functioned primarily as a survival mechanism for its members, unifying disparate groups and giving them hope for survival.
By war's end, when those who survived the rigors of captivity returned to civilian life, they forged bonds which would last a life time.
We would particularly like to encourage individual historians researchers or members of unit associations to contribute to the development of a more detailed history and photographs pertaining to this unit and its members.
Please contact [email protected] (mailto:[email protected]) for details on how to contribute.
Read more...