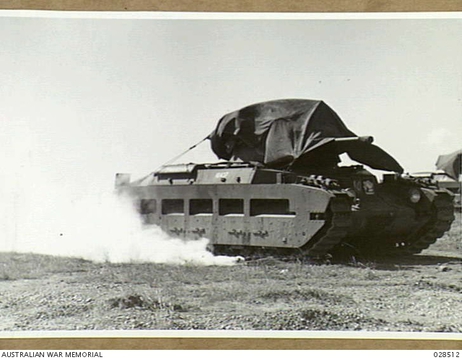 About This Unit
The Royal Australian Armoured Corps (RAAC) during the Second World War adopted the distinctive rhomboidal shape of a British First World War tank as their primary identification feature on their colour patches. Worn with pride on their upper sleeves, these patches clearly indicated to all nearby that the particular soldier was serving in the RAAC.
This colour patch is of the type worn by members of the 2nd Australian Army Tank Battalion of the Australian Imperial Force during the Second World War. As Australian Imperial Force units in North Africa had no dedicated tank units (Divisional Cavalry units being Reconnaissance units armed with light/medium tanks) and the open terrain encouraged faster, more armoured units it was decided to form and send Australian Armoured units equipped with tanks to the Middle East to fight the Fascist Italians and the famous German Afrika Korps. The 2nd Tank Battalion was formed in May 1942 from the 2nd Armoured Car Regiment and it was part of the 3rd Army Tank Brigade, 3rd Armoured Division during the Second World War. The unit did not see service outside of Australia and it disbanded in March 1944. - Courtesy of Australian War Memorial - https://www.awm.gov.au/collection/C1278305
We would particularly like to encourage individual historians researchers or members of unit associations to contribute to the development of a more detailed history and photographs pertaining to this unit and its members.
Please contact admin@vwma.org.au (mailto:admin@vwma.org.au) for details on how to contribute
Read more...