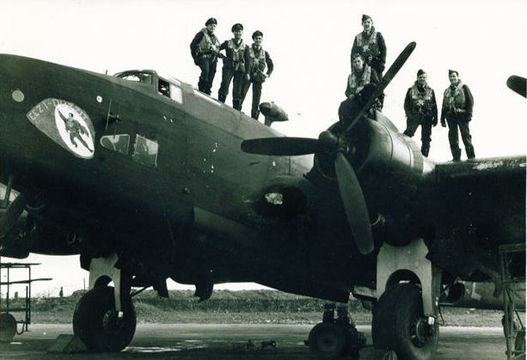 About This Unit
No. 35 Squadron RAF was raised in WW1, disbanded and then raised again for WW2 service, equipped with the ill-fated Fairey Battle light bomber.
On the outbreak of World War II, No. 35 Squadron had been designated a training unit, so its Battles were supplemented with Avro Ansons and Bristol Blenheims late in 1939.
The squadron disbanded after being absorbed into No. 17 Operational Training Unit along with No. 90 Squadron at RAF Upwood, on 8 April 1940. That was probably fortunate for the crews of Nop. 35 Squadron, because Battle squadrons were decimated in the Battle of France. No. 35 Squadron avoided this fate having been held back in the UK.
It reformed on 5 November 1940 at RAF Linton-on-Ouse in Yorkshire as the first squadron to be equipped with Handley Page Halifax four engine heavy bombers. In August 1942 it became a Pathfinder unit, forming part of No. 8 Group at RAF Graveley. Pathfinder units specialised in precision navigation and target marking so that the main force bombing squadrons could more effectively hit their targets.
In March 1944 the squadron re-equipped with the Avro Lancaster, which it flew for the remainder of the war.
No. 35 Squadron served on after WW2, initially operation the Avro Lincoln Lancaster derivative and later the Boeing 'Washington' the UK designation of the US Boeing B-29 heavy bomber from 1949 until re-equipped with the English Electic Canberra jet bombers . Later the Avro Vulcan 'V' Bomber, entered service as part of Great Britain's cold war deterrent force. It was disbanded in 1982.
Read more...